Updated 5 January 2023
Unless you live under a rock, you would have heard all about email marketing being the go-to when it comes to nurturing potential buyers. Even in the vast world of social media, email marketing is still considered a superior option to getting to your buyers. Why? Because with email marketing, you control access to the people you are targeting. With the likes of Facebook and Instagram, you are at the mercy of their diabolical algorithms which limit your reach to a tiny percentage unless you pay for advertising.
Starting from scratch
If you're just getting started with email marketing, and you haven't even begun with it yet, I can highly recommend this article on how to build an email list by Jason Zook. He walks you through his vast experiences on building email lists, what works, what doesn't, and how to do it in a way that doesn't feel skeevy. Jason even briefly outlines his favourite email marketing companies.
If you're just starting out, only need something straightforward, and are looking for cheap or free options, MailerLite is a good starting point. Mailerlite is free for the first 1000 subscribers, and doesn't limit features in the free account. If you keep your list tidy, and maintain it regularly to remove inactive subscribers, you could very well get good mileage out of the free account.
Another option with a free account is Mailchimp. It's free for the first 500 subscribers, and it's been around a long time. The downside of it being free is that if you need customer support, you will only have access for the first 30 days, and then you have to rely on their documentation. It also has limited features on the free account. You can upgrade to higher plans for 500 subscribers if you need more features. Once you get over the 500 subscribers mark, the price changes can be significant as your list grows. If you aren't tech savvy, the documentation can all feel a bit much. Fortunately there's a video training course on Udemy that helps with that. For an affordable price of $US39.99, Mailchimp for Newbies: A Complete Mailchimp Course will teach you the ins and outs.
One of the best value for money email marketing services has to be ActiveCampaign. Starting off at USD$9/month (paid annually), you get a lot of great features, and you aren't financially penalised by the size of your list. There are add-on services for CRM and transactional emails that are available for an extra cost. ActiveCampaign is a beast of a platform when used to its full potential. It can be tricky to learn, but fortunately the customer support team is excellent.
Creating an email
Coming up with content
Sometimes the hardest thing is figuring out what to send. Nobody likes receiving constant emails from businesses that simply promote their products. Create content that is helpful to your clients. Ideas may include:
Address frequently asked questions
Provide information on industry and/or legal updates that may affect them
Educational emails on things clients may not have thought about
If you've got a lot of information to share, I'd recommend putting that in a post on your website and sharing an excerpt in the email, with a link to read the rest. Make the most of increasing website traffic where you can.
An awesome book that I highly recommend reading is "They Ask, You Answer: A Revolutionary Approach to Inbound Sales, Content Marketing, and Today's Digital Consumer", by Marcus Sheridan. This is a link for the US Kindle version, but it is also available in hardback. Marcus turned his struggling pool business around to one of the biggest pool companies in the U.S.A. by using content marketing.
If you need further help writing emails, Copyhackers has free email marketing tutorials in video format. Copyblogger has a good article about how to write an email newsletter.
One thing I would suggest with your emails is to limit the use of images where possible. Make sure you add alt text for screen readers if the image isn't just decorative. And finally, size your images as small as possible so the email doesn't take long to load. An image that is wider than around 660px for a full width image is unnecessary. So with that in mind, an image that is half width should be no bigger than 330px wide. Optimise your images prior to adding them to your email by running them through a service such as TinyPNG.com.
Writing great subject lines
Subject lines need to capture the attention of your readers so they feel compelled to open your emails. They can also be one of the hardest things to write.
Fortunately, there are tools to help with that. Firstly, ActiveCampaign has an email subject line generator. Just select your keyword category, add in your main keyword, and the generator spits out some suggestions. When you're on the page there is also a popup that invites you to a free webinar on writing subject lines. If you scroll below the generator there is a full page of information on writing great subject lines.
So you've typed up an email…now what?
Test the design
Send yourself a test email (all good companies should offer this). Once you've received it, you can see where you need to fix up any styling issues. You might receive the email, and upon looking at it on mobile, find the text is too big, or something doesn't line up right. This gives you the opportunity to go back to your email editor and fix it up before it goes out.
You may find that an image you've inserted is slow to load if you forgot to optimise it prior to upload. Go back and replace the image.
Ok, so now you have the email looking how you want, what's the next step?
Test the content and the subject lines
The reason you want to test the content and the subject lines is for deliverability. You want to make sure you land in as many inboxes as possible. No one wants to spend all their time typing out an email just to have it land in the spam folder and never get opened.
Testing your whole email with Mail Tester
Send your mail to Mail Tester. On the site you're given an email address to send it to. You want to send a test email to that email address, wait a couple of minutes, and then click the "Then Check Your Score" button on the site. Mail Tester will give you feedback on what's good, and what sucks.
Testing your email subject lines
It's a good idea to test your subject lines separately to the overall content because that is the first thing people take notice of when your email arrives in their inbox.
Try the Net Altantic Email Subject Line Grader. I like this one because you don't have to sign up for anything, so you get immediate results. To test it out, I tried the subject line Find out how you can take advantage of this month's beauty offer, and this is what the results looked like: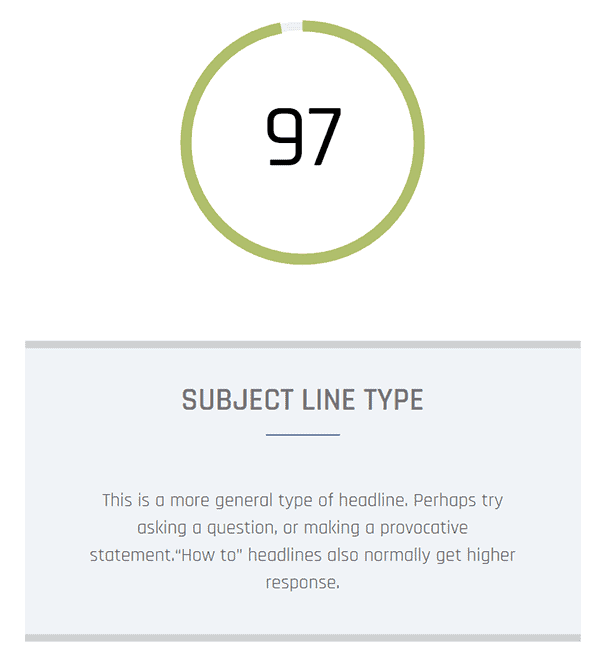 Alternatively, try CoSchedule's Email Subject Line Tester. You do need to sign up to get the results on this one, but CoSchedule has been around a long time when it comes to content marketing, and is highly regarded. For the sake of showing you how the two compared, I signed up myself, and these are the results I got for the same subject line: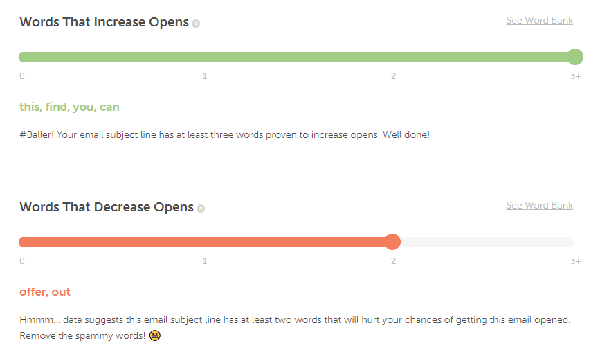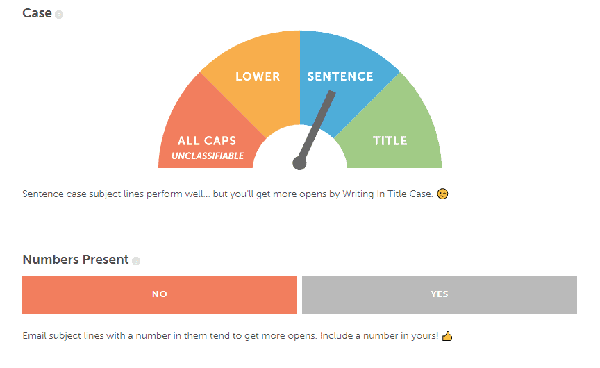 CoSchedule's tester shows quite a different result to that of the Net Atlantic option, and offers some different ideas. Next to the results for "Words that Increase Opens" and "Words that Decrease Opens" there is an option to see their 'Word Bank' of good and bad words to use. It's a good idea to click on these and download the lists so you have them handy.
As you can see it is worth testing with both subject line testers to maximise your subject line results.
Once you've got your email to a point you're happy with it, schedule it to be sent off!
Monitoring results and using that to improve your future content
Analytics
Once your emails have been out for a few days, your email marketing provider should offer you analytics on the performance of your email. You'll have access to information regarding open rates, and click through rates (where they click on a link in your email, and which one they clicked). You'll also get information regarding those that don't open your emails, demographics, location, people that buy a product from a link in your email, etc.
All of this information can be used to improve the targeting of your emails. For instance, if you're running a promotion, and you notice a large group of people didn't open your initial email, you might want to try a follow-up segmented email to those people with a different subject heading.
Automations
You can set up automations that send follow-up emails based on whether someone opens your email, or clicks a link. With automations, it is normal to see a drop off in open rates throughout an automation sequence, but tweaking your subject lines and content over time will enable you to test and improve your results. If you see a large number of people unsubscribe after a particular email in a sequence, then you know it doesn't resonate!
By analysing the open rates on your emails, you can get a feel for the type of subject lines that work well for your email list, and those that are less successful. In doing so you can improve your subject lines to improve your open rates. By watching your click-through rates, you get an idea of whether your content appeals to your recipients enough to take action.
A/B Testing
When you have a large enough list, you can try A/B testing. This is where you create two or three different subject lines for the same email to see what gets the best open rates, test different email content with the same subject lines to test click through rates, or even test different sending times to see when your recipients are most likely to open your emails. Your email marketing provider splits your list up into groups to receive different content, based on what you're testing. You can then compare the results to see what works and what doesn't. Mailerlite has a good explanation of how to use A/B testing on their platform. Zapier also has a good article on testing A/B email marketing.
Find out more about writing good emails
You might have tried the testers above, and you aren't happy with your results. You may also feel stuck for ideas on how to improve things. The great news is, plenty of marketing companies have done the hard yards when it comes to email subject lines, and here are a few links to get you started:
A final note on open rates
Finally, don't expect huge open rates. Across different industries, the overall average is under 22%, according to Mailchimp and Campaign Monitor:
Anything over that, and you're doing great! If you're email open rates are exceptionally low, then it's time to look at how your email is set up in your email marketing provider's settings. You want to use a domain-based email address, rather than a free Gmail (or similar) email address. This gives you authority and makes you look legitimate. You will also need to set up some records in your domain provider to verify your domain. If you aren't sure how to go about that, contact your domain host's customer support, or reach out to me for help.