Unless you live under a rock, you would have heard all about email marketing being the go-to when it comes to nurturing potential buyers. Even in the vast world of Facebook, email marketing is still considered a superior option to getting to your buyers. Why? Because with email marketing, you control access to the people you are targeting. With the likes of Facebook, you are at the mercy of their diabolical algorithms which limit your reach to a maximum of 5% of your page likes, unless you pay for advertising.
Starting from scratch
If you're just getting started with email marketing, and you haven't even begun with it yet, I can highly recommend this article on how to build an email list by Jason Zook. He walks you through his vast experiences on building email lists, what works, what doesn't, and how to do it in a way that doesn't feel skeevy. Jason even briefly outlines his favourite email marketing companies.
If you're just starting out, only need something straightforward, and are looking for cheap or free options, I personally recommend Mailchimp. It's free for the first 2000 subscribers, and it's been around a long time. Now the downside of it being free is that if you need customer support, you only have access to email support for 30 days, and then you have to rely on their documentation. If you aren't tech savvy, the documentation can all feel a bit much. My favourite course for learning all things Mailchimp is Chimp Essentials by Paul Jarvis. Paul only opens the course up a couple of times a year, but it's worth every penny. Video training means your eyes don't glaze over like they do when you peruse Mailchimp's training docs.
Alternative options for email marketing companies with free plans are:
There are many other companies that offer free plans. Here I've chosen three with a strong history, and offer the most features on their free plans.
So you've typed up an email…now what?
Test the design
Send yourself a test email (all good companies should offer this). Once you've received it, you can see where you need to fix up any styling issues. You might receive the email, and upon looking at it on mobile, find the text is too big, or something doesn't line up right. This gives you the opportunity to go back to your email editor and fix it up before it goes out.
You may find that an image you've inserted is soooooo slow to load, because you uploaded one that is too big. When uploading an image, bear in mind that optimal email widths are no wider than 600px. Any wider than that, and they don't fit neatly into email inboxes. So your images should be no wider than that, and if you're only looking to make it half as wide as the email, no wider than 300px. You can resize your images before you upload them by using either a photo editor on your computer or mobile, or using an online option such as BeFunky or Image Resize.
After you've resized the image, you then want to compress that image down as much as possible so it will load fast in your recipient's inbox. Image Resize also has a compression option, or alternatively, use my favourite, TinyPNG.
Ok, so now you have the email looking how you want, what's the next step?
Test the content and the subject lines
The reason you want to test the content and the subject lines is for deliverability. You want to make sure you land in as many inboxes as possible. No one wants to spend all their time typing out an email just to have it land in the spam folder and never get opened.
Testing your whole email with Mail Tester
Send your mail to Mail Tester. On the site you're given an email address to send it to. You want to send a test email to that email address, wait a couple of minutes, and then click the "Then Check Your Score" button on the site. Mail Tester will give you feedback on what's good, and what sucks.
Testing your email subject lines
It's a good idea to test your subject lines separately to the overall content because that is the first thing people take notice of when your email arrives in their inbox.
Try the Net Altantic Email Subject Line Grader. I like this one because you don't have to sign up for anything, so you get immediate results. To test it out, I tried the subject line Find out how you can take advantage of this month's beauty offer, and this is what the results looked like: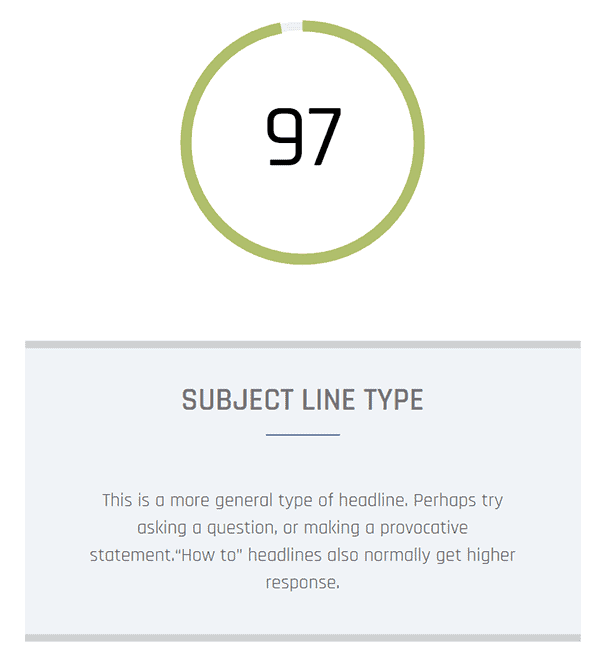 Alternatively, try CoSchedule's Email Subject Line Tester. You do need to sign up to get the results on this one, but CoSchedule has been around a long time when it comes to content marketing, and is highly regarded. For the sake of showing you how the two compared, I signed up myself, and these are the results I got for the same subject line: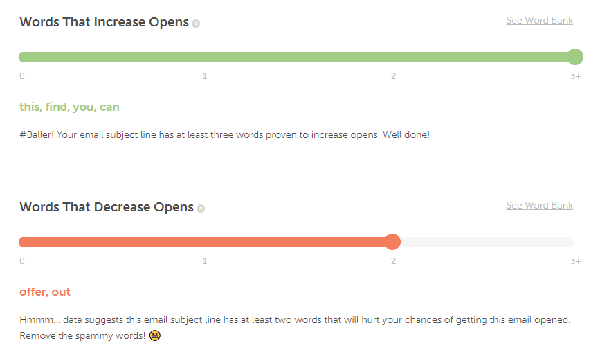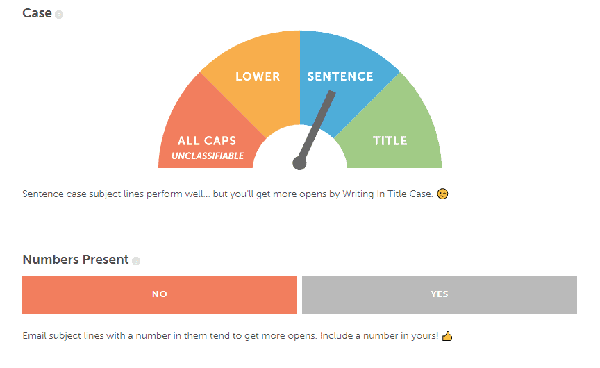 CoSchedule's tester shows quite a different result to that of the Net Atlantic option, and offers some different ideas. Next to the results for "Words that Increase Opens" and "Words that Decrease Opens" there is an option to see their 'Word Bank' of good and bad words to use. It's a good idea to click on these and download the lists so you have them handy.
As you can see it is worth testing with both subject line testers to maximise your subject line results.
Once you've got your email to a point you're happy with it, schedule it to be sent off!
Monitoring results and using that to improve your future content
Analytics
Once your emails have been out for a few days, your email marketing provider should offer you analytics on the performance of your email. You'll have access to information regarding open rates, and click through rates (where they click on a link in your email, and which one they clicked). You'll also get information regarding those that don't open your emails, demographics, location, people that buy a product from a link in your email, etc.
All of this information can be used to improve the targeting of your emails. For instance, if you're running a promotion, and you notice a large group of people didn't open your initial email, you might want to try a follow up to those people with a different subject heading.
Automations
You can set up automations that send follow-up emails based on whether someone opens your email, or clicks a link. With automations, it is normal to see a drop off in open rates throughout an automation sequence, but tweaking your subject lines and content over time will enable you to test and improve your results. If you see a large number of people unsubscribe after a particular email in a sequence, then you know it doesn't resonate!
By analysing the open rates on your emails, you can get a feel for the type of subject lines that work well for your email list, and those that are less successful. In doing so you can improve your subject lines to improve your open rates. By watching your click-through rates, you get an idea of whether your content appeals to your recipients enough to take action.
A/B Testing
When you have a large enough list, you can try A/B testing. This is where you create two or three different subject lines for the same email to see what gets the best open rates, test different email content with the same subject lines to test click through rates, or even test different sending times to see when your recipients are most likely to open your emails. Your email marketing provider splits your list up into groups to receive different content, based on what you're testing. You can then compare the results to see what works and what doesn't.
Find out more about writing good emails
You might have tried the testers above, and you aren't happy with your results. You may also feel stuck for ideas on how to improve things. The great news is, plenty of marketing companies have done the hard yards when it comes to email subject lines, and here are a few links to get you started: